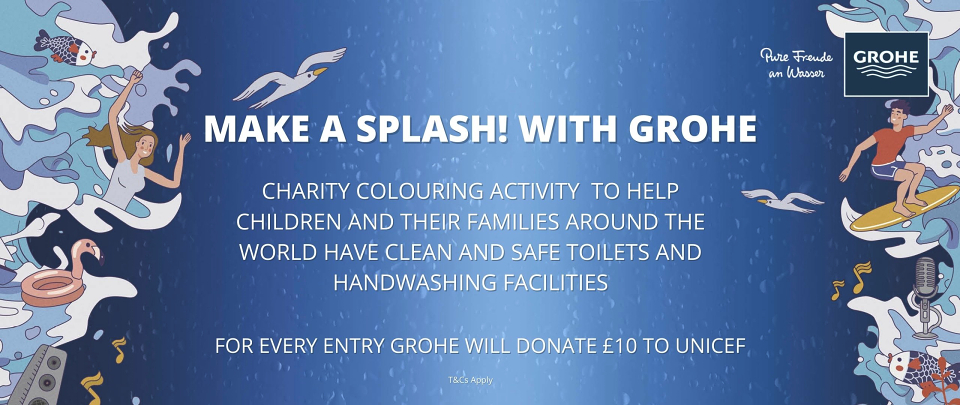 Make A Splash! With GROHE : Charity Colouring Activity
Do you want to be in for a chance to finally get that bathroom revamp you've been waiting for? Well, enter our social media activity for a chance to win a full suite of bathroom products worth over £3000. The 10 runner ups will recieve one of our Limited Edition Energy for Life beach towels. To enter this activity all you need to do is download one of our colouring templates, colour it to your liking and post to Instagram tagging @grohe_uk and using the hashtags #Makeasplash & #GROHEUK. For every entry to the activity GROHE will donate £10 to UNICEF to help children & their familites around the world have clean and safe toilets and handwashing facilities.
Winners will be announced over on the @grohe_uk Instagram page. Make sure you follow us to be kept updated.
Your instagram must be open for us to be able to see your entries!*
Activity Entry dates: May 1st – July 31st
Disclaimer: This activity is not sponsored, supported or organised by UNICEF. UNICEF does not endorse any company, brand, product or service. The children featured are not beneficiaries of UNICEF programmes.
For every entry GROHE will donate £10 to UNICEF
Terms & Conditions
Click the following link to see the terms and conditions of this raffle.