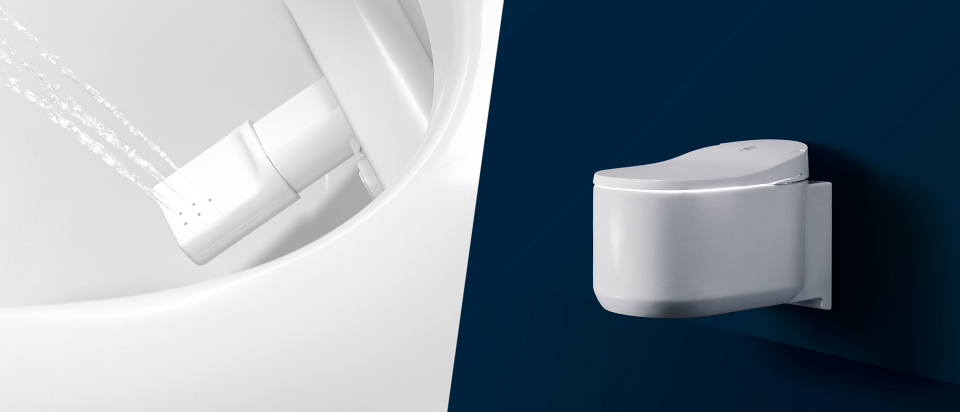 GROHE SHOWER TOILETS
Are you ready to enjoy a new kind of personal hygiene? Then a GROHE Shower toilet is just what you're looking for. The shower toilet combination is designed to encompass all of your hygiene needs in one streamlined WC as it incorporates all the advantages of a toilet and the cleanliness of a bidet. Cleaning with water after using the toilet is not a new construct. It has been popular in many countries around the world for decades and is becoming the most common way to care for your personal hygiene in the bathroom. There are many benefits of using water, it's not only kinder and gentler on your skin than using paper but also more hygienic. Using a GROHE Shower Toilet is sure to completely revolutionise your bathroom experience.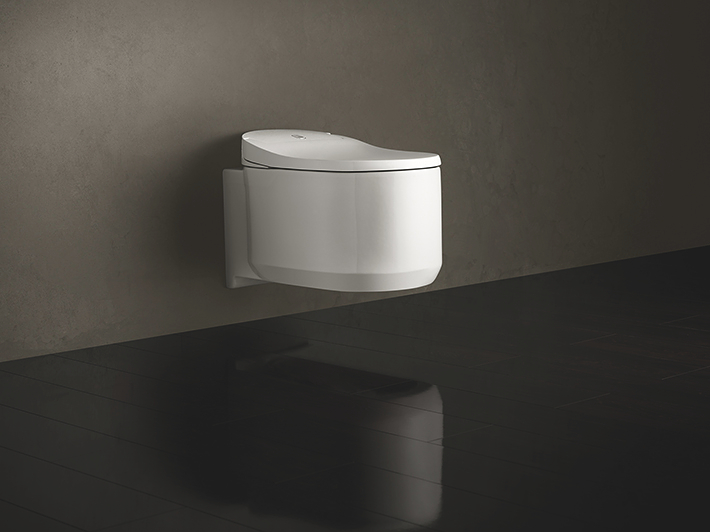 SHOWER TOILETS – THE NEW WAVE OF PERSONAL HYGIENE
We promise, you will only have to lift a finger to enjoy a fresh and hygienic toilet experience and our GROHE Shower Toilet will do the rest. After you have finished on the toilet it thoroughly cleans not just you but itself as well, thanks to the pressurised water spray nozzles that can be adjusted to suit your needs.
Take the GROHE SENSIA® ARENA Shower Toilet for example: it combines style and function and is packed with a host of innovative technologies and features that you have come to love from GROHE. This is the ultimate in comfortable luxury for you and your bathroom.
Here are some of the key features you can look forward to: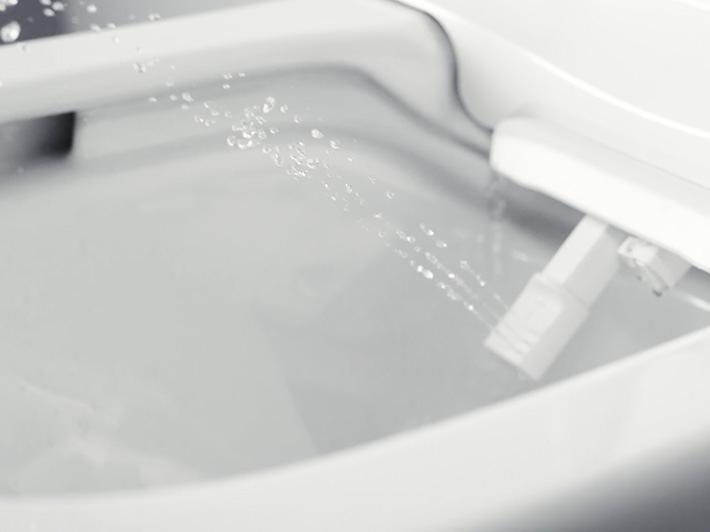 SKIN CARE AT ITS BEST
The shower toilet helps to care for your skin. Thanks to its many nozzle settings, there's the right setting to suit your personal skin care needs. The two separate oscillating spray arms have a variety of spray angles, patterns and the water temperature can also be adjusted. The one spray arm is ideal for cleaning the female intimate area whilst the other spray arm is used for cleaning the rear. The rear spray is also adjustable for precise cleaning keeping water from going everywhere. A massage spray setting is also available due to the varying water pressure strengths.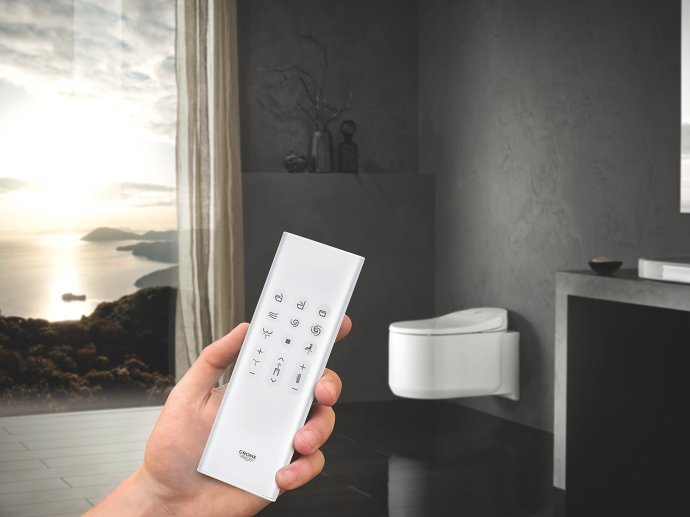 COMPLETE CONTROL
You are in complete control every step of the way with GROHE SENSIA® AREANA App you can simply turn your mobile phone into a remote control for your new shower toilet, from which you can adjust the settings to suit your needs. You can also use our new remote control which puts you in charge of your personal comfort level with a slight of touch. The shower toilet also features infrared user detection, so you won't even have to open the toilet seat when you need to go. The inside bowl night light is perfect for a midnight amble to the bathroom.
SUPERBLY HYGIENIC
The GROHE Shower Toilet not only keeps you clean but also keeps itself hygienically clean and ready to be used time and time again, thanks to a wide range of technologies that have been packed into our shower toilet.
Our AquaCeramic technology that lasts for 100 years prevents unsightly limescale from sticking.
The germ resistant HyperClean coating and the self-cleaning spray arms ensure that the shower toilet is as clean as can be without much effort on your part. The ultimate in bathroom comfort and luxury.
Triple Vortex Flush is a powerful triple flush that not only saves water but cleans the entire bowl thoroughly.
Thanks to PlasmaCluster® technology ions are released inside the bowl which helps to neutralise and remove bacteria for a cleaner smelling toilet and the ultimate hygiene experience.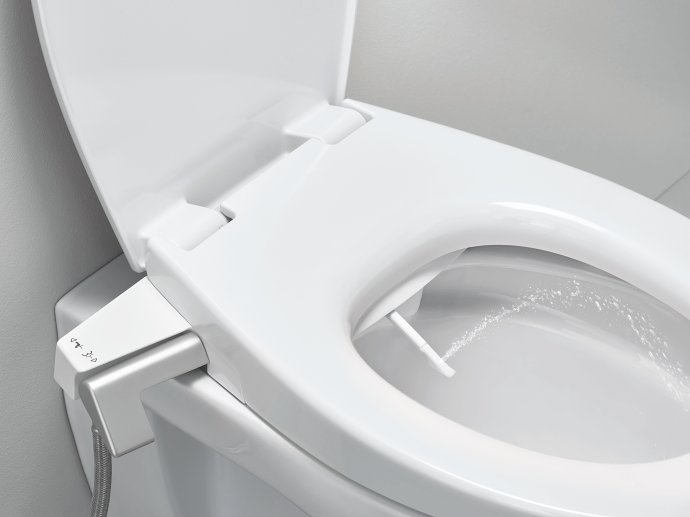 AN EXEMPLARY ADDITION TO ANY BATHROOM
With its sleek and streamlined looks, a wall hung GROHE shower toilet aligns perfectly with any preferred style and will set the tone of your bathroom – ultimate comfort and luxury. You can also transform your already existing WC into a hygienic dream if you opt for the GROHE Manual Bidet Seat, which is perfectly designed to fit a variety of different toilets. No electricity is required as the seat is completely manual, simply use the lever on the side of the bidet seat to effectively control the desired water pressure. Whichever shower toilet you decide to opt for you can be safe in the knowledge that our aim is to offer you the most hygienic and enjoyable bathroom experience possible.
Which GROHE shower toilet is yours?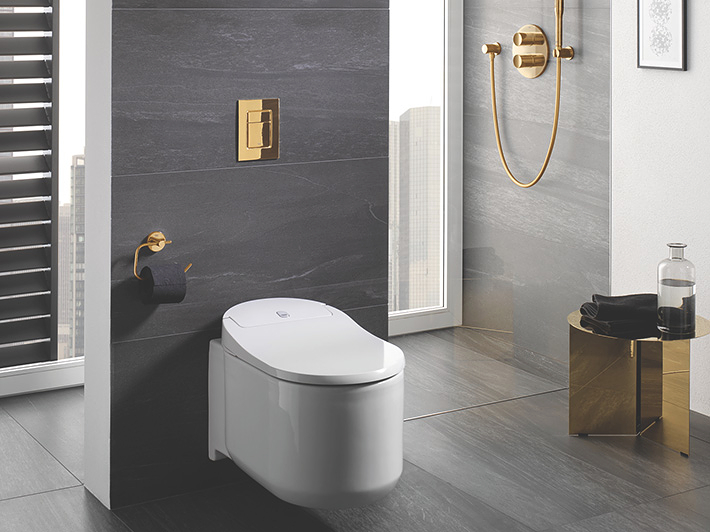 GROHE SENSIA ARENA
The GROHE Sensia Arena Toilet is the next level of personal care in the 21st century bathroom, offering a broad range of intelligent features. Prompted by a sensor, the lid opens and closes automatically while a gentle nightlight guides your way in the dark. The absorption of odors supports the transformation of a simple bathroom to a relaxing and hygienic zone. Every design detail has been carefully considered to offer new levels of cleanliness at every stage. Special hygienic coatings and powerful flushing keep the toilet clean while the self-cleaning, anti-bacterial spray arms give you total peace of mind when using the spray function. Discover the Sensia Arena and increase your personal well-being and comfort.
Discover the GROHE Sensia Arena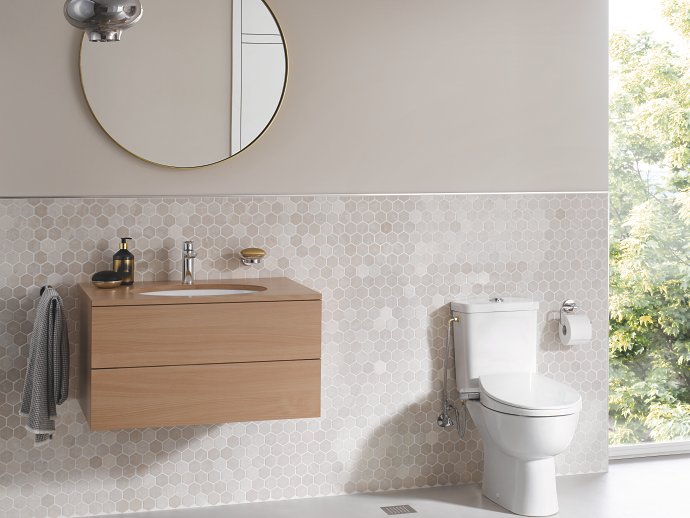 GROHE MANUAL BIDET SEAT
The GROHE Manual Bidet Seat transforms a simple toilet into a comfortable, hygienic place where personal care and cleaning are second nature. Attached to a WC ceramic, the seat doesnt't require electricity - instead, the spray is operated by a side lever powered only by water pressure, putting the control at your fingertips for an effective but gentle cleaning experience. No mess, no splashes and no stress. Made from hardwearing Duroplast, the seat itself creates an elegant visual addition to the bathroom. Just take a seat and let the GROHE Manual Bidet Seat transport you a cleaner, more comfortable place.
Discover the GROHE Manual Bidet Seat