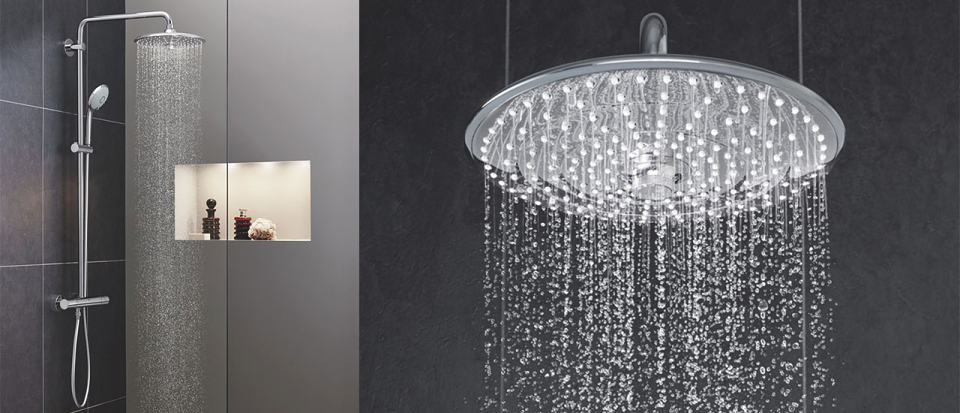 GROHE SHOWER SYSTEMS: EVERYTHING YOU NEED FOR A LUXURY SHOWER
With so many inspiring designs, you know you're in safe hands with GROHE when it comes to shower systems. Imagine a system that perfectly matches your personal showering habits as well as your bathroom décor. Decide for a design that defies the norm and completely reinterprets the way you shower. By choosing a luxury shower from GROHE, you'll finally get that reinvigorating shower experience and maximised comfort you've always wanted. Our range of shower systems offers great flexibility and brings you one step closer to your dream bathroom. Our systems don't just look amazing, they also have innovative engineering and technology incorporated for added safety, performance, and control.
A ONE-STOP SHOWERING SOLUTION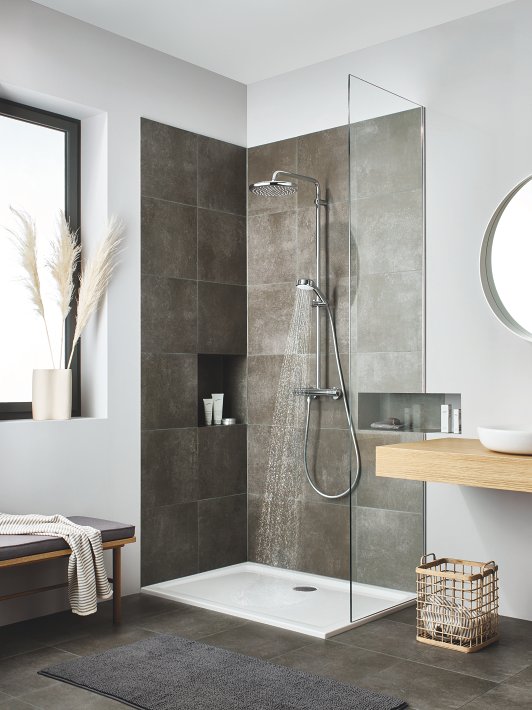 Get everything you need for your ultimate shower adventure all in one place with a GROHE shower system – ideal for a bathroom upgrade. The beauty of these designer showers is that they offer the complete package, with a showerhead, hand shower, shower rail, hose, and thermostatic mixer all in one. If a thermostatic mixer is not the style you're looking for, you'll be pleased to know that GROHE also offers stylish single lever mixers and diverter systems. With a GROHE shower system, your shower experience is completely tailored to you, from the choice of spray options to the award-winning style that GROHE is famous for. All GROHE shower systems are economical, and easy to use and install.
Starting with the modern architectural style of the TEMPESTA SYSTEMS, up to the contemporary chic of the EUPHORIA SYSTEMS and then ending with the luxurious comfort of our RAINSHOWER SYSTEMS, our collection covers everything you could ever need and at prices to suit you.
Rainshower systems, such as the RAINSHOWER SMARTACTIVE 310 WITH THERMOSTAT, are an easy way to upgrade to a more comfortable shower experience, tailored just to you. This particular model has a handy 180° swivel arm and features three exhilarating sprays: the relaxing ActiveMassage spray, the invigorating Jet Spray, and the soothing Rain Spray. This is made possible thanks to GROHE SmartControl. Many of GROHE's luxury showers come with this innovative shower system, which allows you to effortlessly adjust the water volume and temperature, select your preferred jet types, or switch between overhead and hand shower. Updating your bathroom has never looking more appealing.
A WHOLE WORLD OF DESIGNS TO CHOOSE FROM
Design your shower for your personal hydrotherapy sessions and give your senses something new to experience every day. Whether a large or extra-large showerhead, concealed or mounted on the wall, GROHE showers come in an enormous variety of shapes, styles and sizes. Each one has been designed to meet your highest expectations and wishes. While chrome might be the first colour that pops into mind, it certainly isn't the only one available! Warm sunset as seen with the EUPHORIA SYSTEM 310 model, is a little out of the ordinary and is sure to make your bathroom stand out. Other colours include hard graphite and cool sunrise, as well as matt versions if you don't want a shiny finish.
Not only do GROHE shower systems come in a range of contemporary shapes and colours, but individual elements can also be tailored. With thermostatic, single lever and diverter models, a choice of several showerhead sizes, various shower arm lengths, and the option to add luxurious body sprays and elegant bath spouts, the shower system range has all the options and flexibility you need to create your ideal shower, whatever your bathroom setup might be.
FEATURES FOR ULTIMATE PERFORMANCE, SAFETY, AND SUSTAINABILITY
When choosing which luxury shower system is right for you, don't just go for looks – consider the additional features offered by the shower system as well, and how they will make your showering experience even more enjoyable. With our luxury showers, you can count on an even flow of water from each nozzle thanks to GROHE DreamSpray technology, while the Aquadimmer function lets you effortlessly control the volume of water while also directing the flow of water between the head and hand shower.
Because safety is a high priority, GROHE has made sure to include a number of safety features in its designer showers, such as the GROHE TurboStat cartridge, which eliminates unpleasant temperature fluctuations for comfort as well as protection. Other safety measures include the GROHE SafeStop temperature limiter and optional SafeStop Plus features. These limit the water temperature to 38°C and 43°C, respectively, to prevent scalding, although the override button enables you to increase the temperature. To make sure showering is safe for the whole family, you can trust GROHE CoolTouch, which prevents the outer surfaces from warming up.
We also offer water-saving features – EcoJoy and EcoButton – that help reduce water consumption without compromising on performance. The latter switches the water from rain jet to water-saving SmartRain jet at the touch of a button.
We know how tedious cleaning can be, so to facilitate this chore we've integrated silicone nozzles as part of the SpeedClean anti-limescale system, which are much easier to keep clean compared to other materials. The StarLight chrome finish ensures that the shower system stays as shiny as the day you bought it and keeps it free of scratches.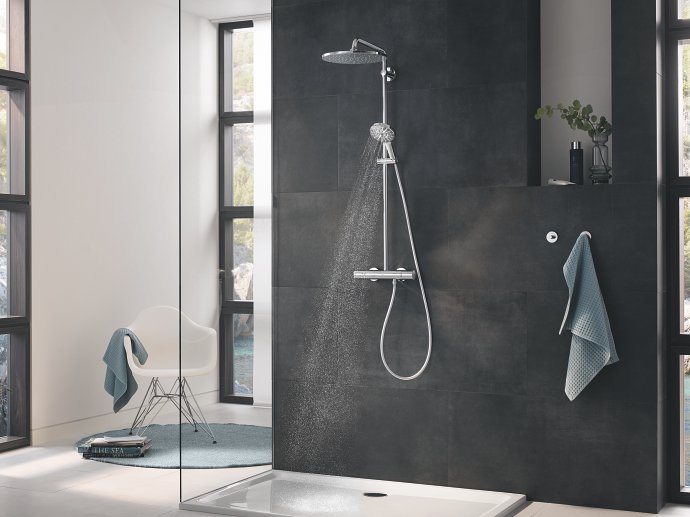 LUXURY SHOWERS FROM GROHE: THE RIGHT DECISION
Showering doesn't get more luxurious than with a GROHE shower system. Some days you might prefer a calm, gentle shower to help you relax before bed, and other times you need a quick burst to help you wake up before heading to the office. With GROHE, you don't have to choose one or the other: our designer showers offer both.
So what more could you want from a shower system? GROHE's showers are second to none when it comes to quality. Once you've settled on which designer shower to purchase, check out GROHE's helpful guide on how to fit a shower.